**I received a promotional item in exchange for this post. All thoughts and opinons are my own**
---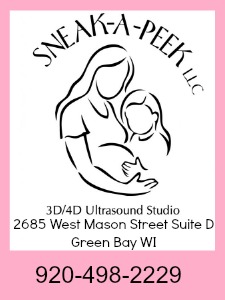 As many of you may have heard, we are expecting baby #5 this August. I am currently 19 weeks pregnant and of course, we have been waiting to find out the sex of baby #5 and don't have an ultrasound with my OB scheduled until April 12th.
When I was pregnant with Alexander back in 2007, my doctor at the time wouldn't order an ultrasound so I had to get his consent to have an ultrasound through a service out of town. It was expensive, we didn't get to see much other than gender and all in all, it wasn't a memorable experience.
On Saturday morning, the family (minus Libby) went to Sneak-A-Peek 3D/4D Ultrasound Studio here in Green Bay to learn the gender of our next family member. I had recently learned of Sneak-A-Peek's existence via another friend and on Saturday discovered they have been in business since 2010.
After our experience and learning everything Sneak-A-Peek has to offer, I am glad we found them and will definitely recommend them to friends and family.
In just 20 minutes, we discovered we are having a…… Read the rest of this entry »